Dynamic Manufacturing Case Study
About Dynamic Manufacturing, Inc.
Dynamic Manufacturing is a family owned and operated organization that specializes in the manufacture of automotive, off-road, industrial and racing powertrain products. Dynamic Manufacturing is the proud recipient of the General Motors prestigious "Supplier of The Year Award" fourteen times.
The manufacturing facility is the premier supplier of world class OEM and new and remanufactured Drivetrain components serving the OE Automotive Industry. As such, proper solvent waste management is critical in order to build specialized equipment and rapidly bring the products to market.
The Solvent Waste Issue
Prior to partnering with Solvent Recycling Systems, Dynamic Manufacturing's daily procedure for handling their solvent waste stream was to replace organic solvent waste with fresh virgin solvent every week — roughly 5-6 drums per week for each building. This spent solvent was sent off-site for fuel blending and required additional administrative and EPA reporting expenses. Dynamic Manufacturing's operational expenses were high given (1) this regulatory burden, (2) the waste disposal costs of off-site recycling, and (3) the loss of floor space—not to mention the risks involved in transporting and contributing to air and water pollution.
The Solvent Recycling Turnaround
Using available chemicals on-site,  Dynamic Manufacturing achieved low generator status in less than a year after installing a Solvent Recycling Systems on-site solvent recycler at their facility. No initial investment was required – in fact, Dynamic Manufacturer experienced 50% total cost savings in one year without spending anything up front.
Solvent Recycling simply used their available chemicals on-site, and paid for the management of the still and clean solvent produced during recycling. This immediately ensured Resource Conservation and Recovery Act (RCRA) compliance and waste management processing that's in accordance with human health and the environmental laws. With Solvent Recycling Systems, Dynamic Manufacturing was able to:
Restore RCRA Exempt Processing
Reduce Corporate Liability
Eliminate Administrative and Reporting Expenses
Remove Products from Hazardous Waste Stream
Create Renewable Energy
Reduce Dependence on Virgin Solvent
Lower Risk
Lower Disposal Costs and Landfill Disposal
Reduce Purchasing Manager Responsibilities
Free up Warehouse Space and
Protect Brand Image
Reduce Regulatory Burden
All of this resulted in an immediate ROI from alleviating management costs and supplemental solvent purchases.
How it Happened
Solvent Recycling Systems' (SRS) machines apply predictive analytics to traditional solvent waste recycling. Our solvent recovery can recycle 98% of spent solvent into reusable, clean solvent. SRS accomplishes this through tank level monitoring sensors that alert operations personnel when a solvent is close to running out. Operations teams can then add just the right amount of clean, supplemental solvent, as opposed to the traditional method of disposing of all the used solvent and buying new materials.
Why Recycle On Site?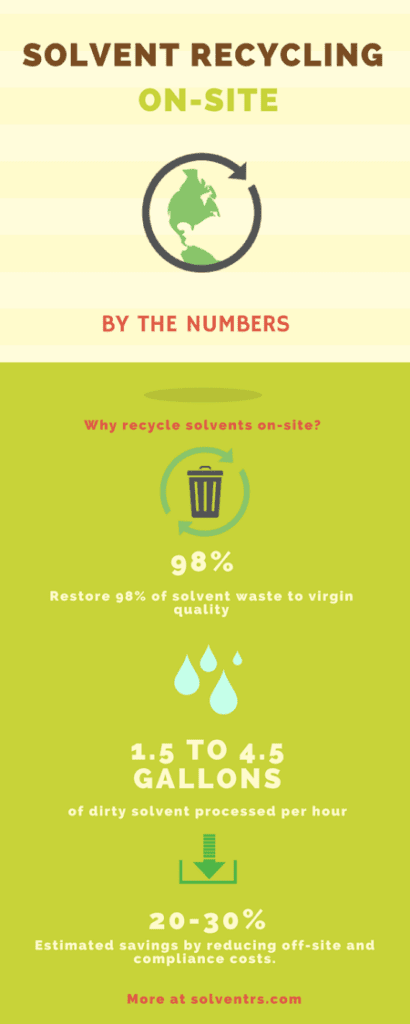 ---
What Was Achieved?
$200,000 Cost savings per year
(cut costs in half)
2,000 drums of waste processed
per week
Sustainability awards issued for solvent recycling
---